Make Unique HD VIDEOS, Attract More Eyeballs & Crush your COMPETITION
Turbocharge your Content and Rank Better by using Updated Searchable Stock Video Collection of

30,000+ Royalty Free Premium Full HD Videos

and Backgrounds
Now comes with a Cloud-Based Drag and Drop Video Editor &
Attractive Video Stickers in 50 Different Niches making StockNation a
Video Power House for Total Market Domination
8000+ Customers Use StockNation

as their Favourite Choice for
Stock Videos selection Every Single Day…
Dominate your Competition by making

better Quality Unique Videos

using StockNation

30,000+ HD

Videos spread

across every possible Niche

online
A

Searchable SAAS app

(easy to find what you are looking for with simple Keywords)

Go Viral

by making better videos using StockNation

Rank better on Youtube

by using HD Videos in your work
Give a complete new outlook to your content

Super Easy 3 click access

just Search -> Download -> Use
Brand

New Drag and Drop Video Editor
Create

Studio Quality Videos

in Minutes

Ultra-Fast Rendering

Engine

Go Limitless

(Make Unlimited Video Projects, Download Unlimited Videos, and Get Unlimited Renders)

Mix Videos, Images, Add Text over Videos and Rearrange Media

to make your Unique Storyline
No need to save 280GB Data files to your Hard Drive
Plug & Play:

Fully Hosted & Managed On The Cloud.

No Download or Configuration Needed
No Technical Experience Required

Make Unlimited Videos

for Personal Projects.
OUR STOCK, YOUR STORY

Users Trust StockNation
To Make Their Competition Cry.
"StockNation is an incredible time saver and valuable resource for marketers and content creators. It's easy in StockNation to search for and find quality relevant images and videos to use in my projects."
"I use StockNation all the time and so will you."
Evan Kopelson from evantalks.com
"All of us are trying to break into the video market. To speed things; up we use products from your service to give us a wide selection of choices so we do not have to create anything but we can use your products directly in our videos whether it is for us or our customers. This saves us a ton of money and time."
Charles Osborne

"StockNation is now the first place I look to find Videos for projects, and it is often the only place I need to look. I've used StockNation Videos for social media posts.
I particularly appreciate the editing tool that is right inside the platform."
Ann Silvers from Annsilvers.com

StockNation Membership

works in 3 Easy Steps:
Step 01
Search Your Desired Video using a Keyword
Step 02
Preview Your Video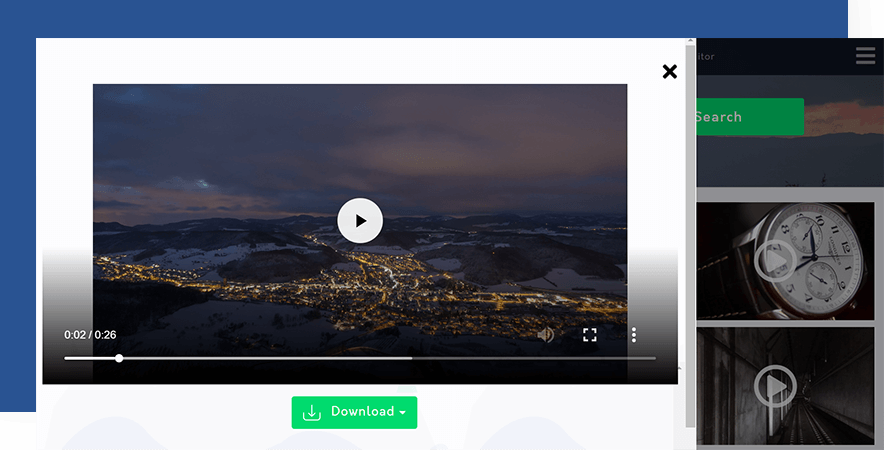 Step 03
Download your Preferred Size
To:

All Online Marketers
From:

Roshni Dhal, Vipul Garg and Gaurav Madaan
Roshni Dhal
Vipul Garg
Gaurav Madaan
In the Past few Years, We all have witnessed the evolution of Videos.
On an average, 72 hours of Video content is produced every 60 seconds just on youtube.
In addition, lets look at these Shocking stats: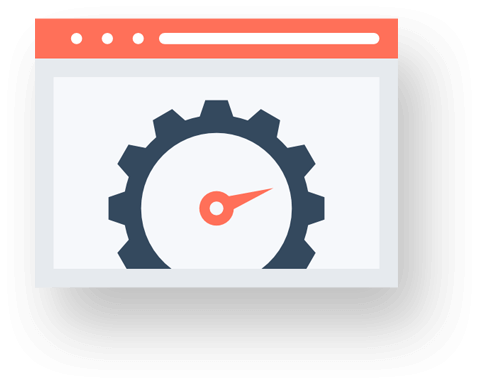 51% of marketing professionals

worldwide name video as the type of content with the best ROI.
Marketers who use video grow revenue 49% faster than non-video users.
64% of consumers make a purchase after watching branded social videos (via

tubularinsights

).
59% of executives agree that if both text and video are available on the same topic, they are more likely to choose video.
Video drives a

157% increase in organic traffic

from SERPs.
Video on a landing page can

increase conversions by 80% or more.

The average CVR for websites using video is

4.8%, compared to 2.9%

for those that don't use video.
An initial email with a video receives an increase click-through rate by 96%.
Blog posts incorporating video attract

3x as many inbound links

as blog posts without video.
Viewers retain 95% of a message when they watch it in a video compared to 10% when reading it in text.
The average user spends

88% more time on a website

with video
Today we can all agree that

"VIDEOS ARE THE GO TO THING"


when it comes to do Marketing anything Online.

500
Hours of Content is Uploaded just on
Every Minute
Which means, it's

Extremely important to stand out


of your Competition.
Hence,
Breathtaking HD Videos Production
becomes a necessity to Lead and Dominate the Market.
You have 3 options to do this:
Option #1
Shoot your Own HD Videos using Professional Cameras

(And even if you have all the equipment and skills, the chances of being successful is close to 0)
Recommended for:
People with too much free time, loads of money and Professional Camera skills
Option #2
Buy it from Popular Sites

like Videoblocks, Shutterstock, etc
But but-but, paying $79 PER HD VIDEO?
Umm, I don't think that is a good and smart choice.
Recommended for:
People with too much of money to burn.
Option #3
Grab Our Updated Searchable
Stock Collection of 30,000 HD Videos
&
Cloud-Based Drag and Drop Video Editor &
Attractive Video Stickers in 50 Different Niches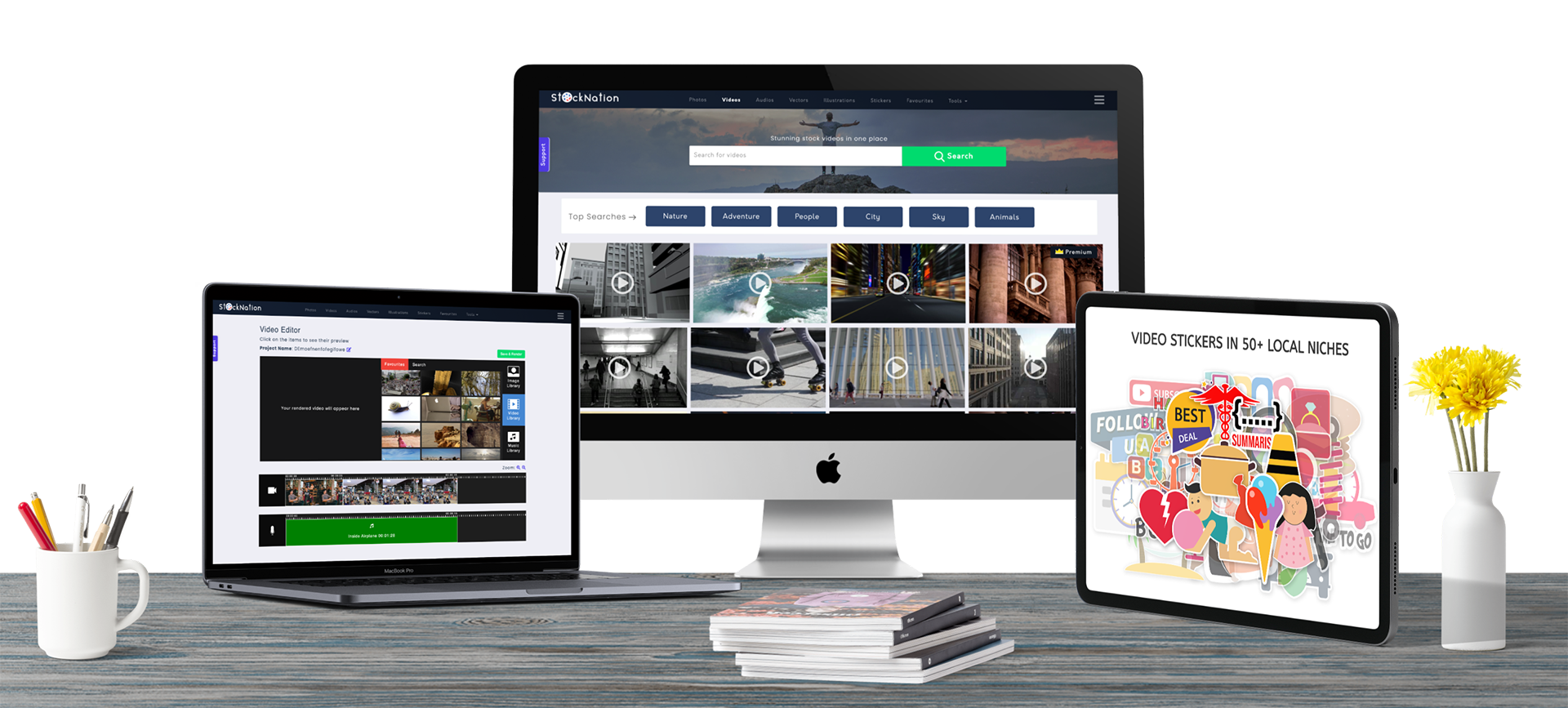 That too for just 1/3 of the Price of what you would pay for just One Video.
Recommended for: People with Smart Mindset, People

JUST LIKE YOU!
The Single One Time Investment
you will do Today is going to be your

Best Investment in 2021!!
OUR STOCK, YOUR STORY
Watch StockNation
in Action
See for yourself, How Easy is to Search and Download
our Stunning Stock Videos at the Click of a Button
Our Videos can work


with all kinds of Softwares


and Video Editing Tools like


OR
You can Edit Our Videos with

StockNation Video Editor
Watch StockNation Drag and Drop
Cloud-Based Video Editor In Action Below
Drag and Drop Timeline Editor
Combine Multiple Videos into 1
Add Text on Top of Videos
Adjust the Lenght of Each Video
Rearrange to Create your Own Storyline
Ultra Fast Rendering Engine
Unlimited Renders
Already Smart Enough to Know
that StockNation is the Right Choice?
OUR STOCK, YOUR STORY
That's not all...
We are also thrilled to announce that Today, along with StockNation Stock Footage Collection and StockNation Video Editor - You will also be getting Video Stickers.

It is a fact that no one realizes, until now.

Niche based Stickers drive a lot of engagement and increase connection with your audience.

If you are not using them, you are missing out on a huge addon for your Business and Videos.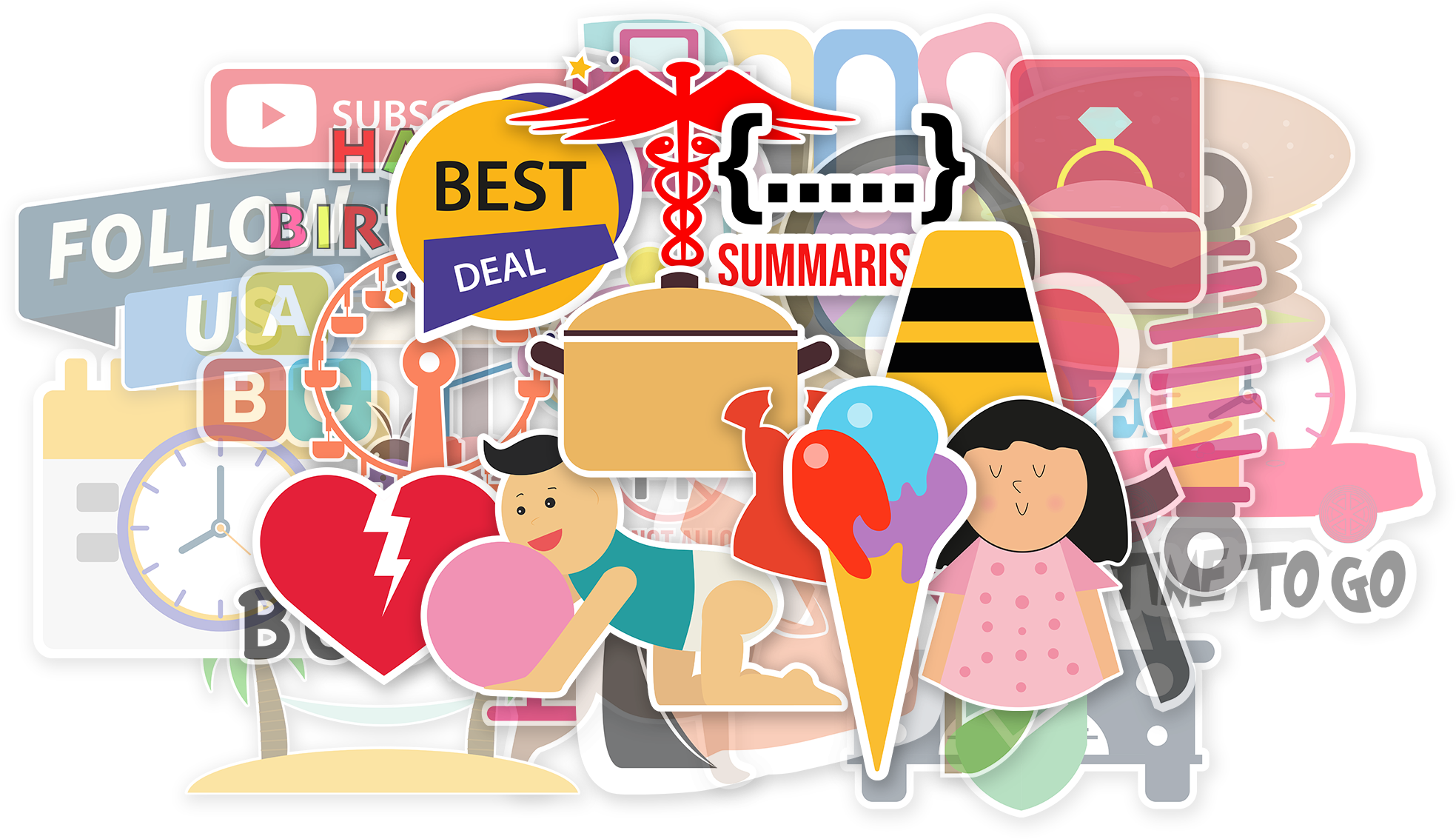 Video Stickers in 50 Local Niches to help you Spice up the Engagements,
Create Incredible Eye Grabbers in literally Minutes.
Wondering How Video Stickers can spice up your Video Production and Engagement Capabilities?
Use of Stickers in Explainer Videos
Creators Pre-dominantly use video stickers to drive higher engagement and increase their watch time..
---
Use of Stickers by Tech Video Creators
Tech YouTubers uses Stickers to keep their audience hooked and in-turn generate more money for themselves..
---
Use of Video Stickers as a Video Wrapper
GaryVee amongst many others, A Famous Personal Brand in the Social Media world uses Stickers for more views, engagement and in turn, helps in boosting his leads and sales.
---
StockNation's Handcrafted Video Stickers = More Attention, Leads and Sales
As per the recent studies, if you are not using stickers in the videos you make, then you are missing out on a big chunk of engagement, StockNation's stickers is a Invaluable resource that shouldn't be Missed at any cost.
Accountant
Ache
Air Conditioning
Bakery
Birthday
Burial
Car
Cat
Caterer
Children
Chiropractor
Cleaning
Clothes
Construction
Cooking
Counselor
Daycare
Dental
Divorce
Doctor
E Commerce
Electrical
Events
Exercise
And 26 More Niches...
Just to let you know, how astonishing this opportunity is, let us do the Maths.
For $67, you will be getting:
30,000+ HD Videos
500+ Motion Backgrounds
2,500+ Bonus HD Videos
Brand New Video Stickers for '50 Local Niches'
That is for every
$1


You will be getting

447+ HD Videos


&
A Brand New No Bar Drag and Drop Video Editor
&
10 Stickers
See What People Are Saying About Us On
TrustPilot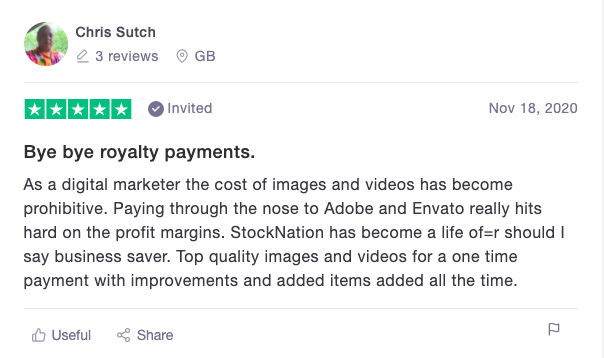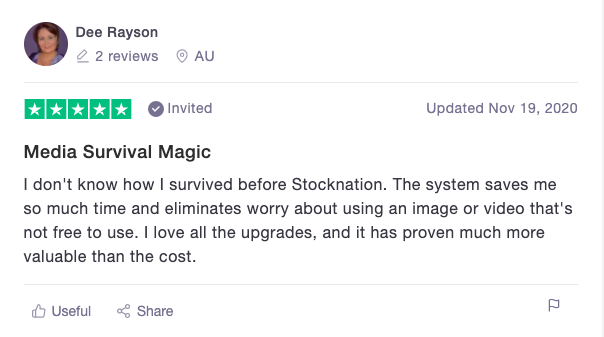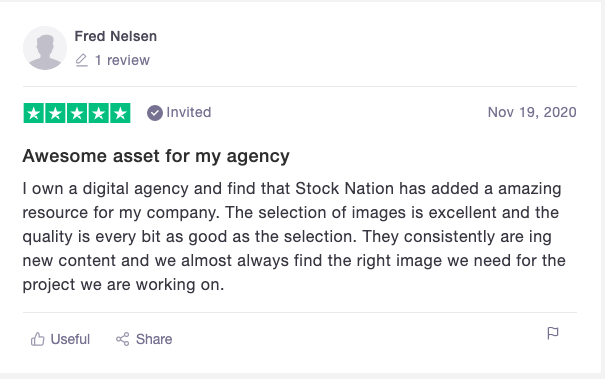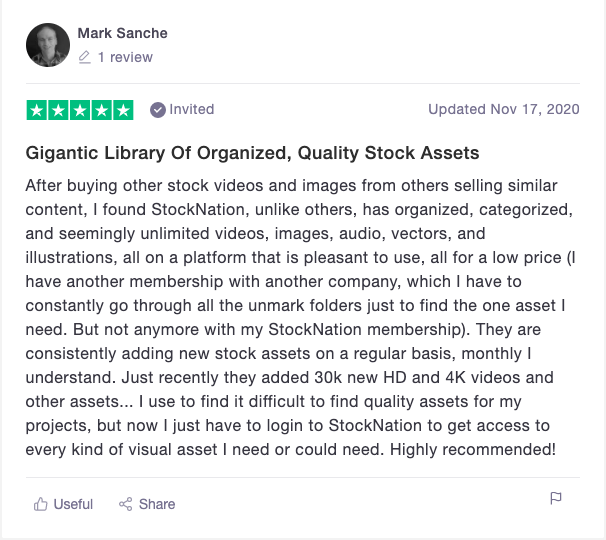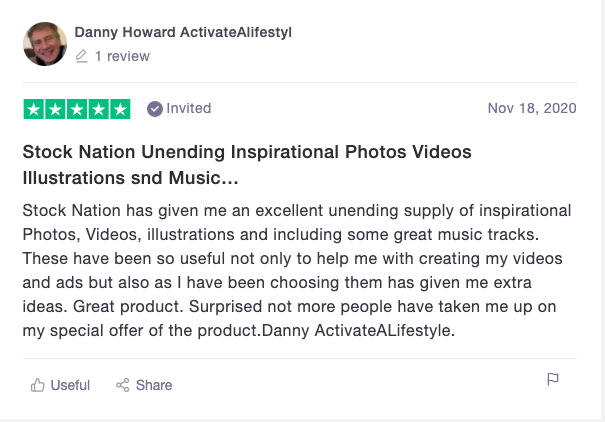 Kinds of Videos you can create

with StockNation
Sales Videos
Explainer Videos
Special Offer Videos
Youtube Vlogging Videos
JV Partner Videos
Testimonial Videos
Promotional Intros
Corporate Brand Videos
Lead Generation Videos
Product Demonstrations
Affiliate Review Videos
Facebook Ads Videos
Real Estate Videos
Video Intros
Video Outros
Call To Action Videos
Tutorial Videos
What this is Worth:
Normally buying a HD Stock Video
from a site like ShutterStock

will cost you $79
If you were to get 30,000 HD Videos
from Shutterstock,

it will cost you $23,70,000.


&
A Minimum of

$37/Month


Ongoing Cost of Your Video Editor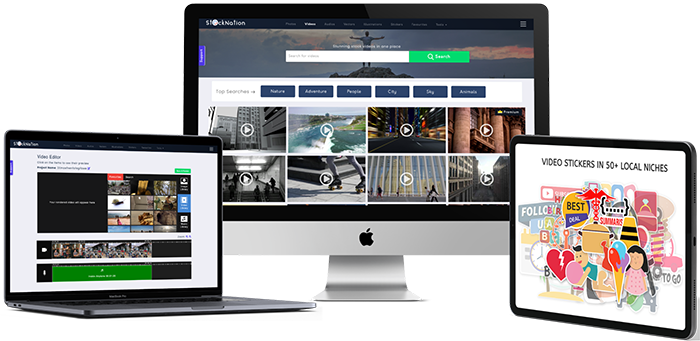 Where as today you can secure your

StockNation License for just a
One Time Price of $67.
High Valued Exclusive Bonuses:
We are not done yet!
Along with StockNation, We are also giving you access to 3 Premium Bonuses Available Nowhere else:
Bonus #1


Webinar with Devbrat Sharma on How to make Hollywood Style Videos using StockNation.
Value: $997
Bonus #2


Webinar with Amit Mishra from Tryootech on How to get Upto 1 Million Views on YouTube using Advanced SEO.
Value: $997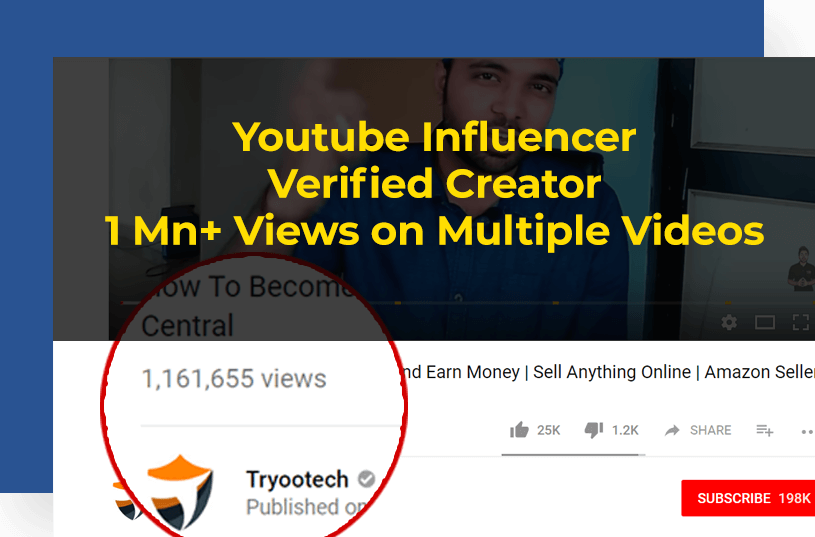 Bonus #3


VIP Access to Premium Facebook Group of 14,000+ Marketers
Value: $297
Ironclad 14 Days

Money Back Guarantee
You will be covered with "Stocknationtee" Ironclad 14-Day 100% Money Back Guarantee.
Purchase Stocknation today in complete confidence, because the risk is all on us.
If you are not satisfied with Stocknation for any reason, then just email us and we will refund your entire money.
So, Investing in Stocknation is 100% save and Risk Free and loads of VALUE
Get Instant Access to StockNation Today:

Personal

Business
Searchable videos via category

---

30,000+ Premium HD Videos


(FRESH 5000+ Ultra HD STOCK VIDEOS Just Added)

---

5000+ Premium 4k Videos

---

2,500+ Bonus HD Videos

---

Advance Inbuilt Video Editor

---

Trim Videos, Merge Videos

---

Add Text over Videos

---

500+ HD Motion Backgrounds

---

Video Stickers in 50 Local Niches

---

Commercial Use

---

Use in Unlimited Video Projects

---

One Time Price

---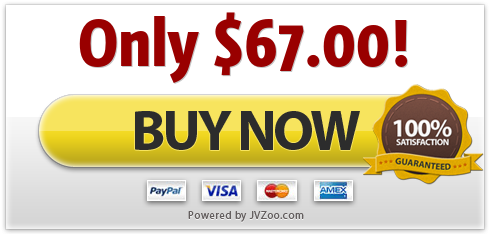 8,000+ Users Trust StockNation,


Let us see what they have to say about us:
"I am a musician and music teacher - working in a music school. I makes videos and posters for concerts for young people. I work with some freelance musicians too, and I makes videos for them have a presence on social media. I am not a marketing man, and do not have budget to pay for promotion or Marketing, i think it is Great to pay One time for StockNation Membership and takes videos or photos when I need them, and not pay for a yearly subscription."
Issa Molina


"StockNation has been very helpful as I have used the images to design mugs, t-shirts and necklaces as well as using them in my digital presentations when I teach. It places a large quantity and wide variety of images that make it easier for me to do what I do without the need of searching all over the web. I would recommended it to anyone."
Joanne Langford

"Stocknation has provided assets that allow me to better serve my clients. It's easy to find what I need. Plus, The Team is definitely above average at providing customer service and training for how to use their products productively."
Joseph Palmer
"Hey, what can I say.

I rarely if ever give testimonials for products I've purchased. If anything most of the products I've purchased recently, deserved a stern ripping into (if you know what I mean). But i can't say that about my StockNation membership!

My membership in StockNation was one of THE BEST investments I've ever made in my business. It has proven to be invaluable and has saved me a tremendous amount of money from the very first day I joined. Plus they made it so easy to search their huge library of assets with just a couple of keywords and a mouse click.

No longer will you have to search your hard-drive for that perfect video footage or image for your project only to have to settle for something less than mediocre. This is also how I feel about stockNation's other competitors who'll never come close to what they offer!

So if you're still sitting on the fence wondering whether or not to join, I strongly recommend that you jump off and jump on this membership with both feet, hands, fingers, elbows, toes and toe nails before it's too late!"
Keith Gloster

"I really like StockNation, especially the quality of the Photos and videos and the organization that make it so easy to find what I am looking for. That has been the greatest hurdle in my other purchases of stock media. It really helps in the creative process to find quickly what I am looking for!
Thanks for providing such an excellent product."
Tom Hughes
"I develop a lot of video content for my IG business page, so it really helps to have a source of HD stock footage at my disposal to work with."
Erinski Easy
"I am thrilled with my membership to StockNation! First, the site is extremely user friendly, which definitely cannot be said of most stock video sites. I like how the videos are divided into categories, which makes finding what I want very easy. For example, I needed a countdown timer for my webinar. I was actually doing research on how to build a countdown timer on Camtasia – which would have taken forever, but luckily first decided to check out my StockNation options, and wouldn't you know, an entire selection of countdown videos that all look great and one even included music!! Countdown videos are definitely a plus to have prior to a webinar beginning.
I haven't done it yet, but am putting together a sales page video for my first funnel. These high end stock images will help me to break the video up, to make it more interesting, and have my overall video look sharper and more professional.
I highly recommend getting this tool"
Tricia Belmonte
FAQ's
Q
I am an existing customer, will I get new upgrades added in my StockNation account?
The new upgrades are not added to your StockNation account however you can get all the new assets by upgrading to StockNation evolution pack. Click here to upgrade your account.
Q
What is the Format of the Videos that are offered in StockNation?
All videos offered in StockNation are in standard mp4 format and can be used with any Video Editor of your Choice.
Q
How are these Videos different from websites like Pixabay and other free Stock Footage websites?
Our videos are Royalty free and 100% Premium, they have been sourced from offline vendors and their work is not available openly anywhere on the internet.

Moreover to make your Stock Selection easy, we have also aggregated all cc0 footage from across the web and are offering it inside our StockNation app for absolutely free. This will save you Time, give you more Choices and will help you to produce your video with just one simple dashboard.
Q
Do I need to download heavy files to my Computer/Hard drive?
No, you don't need to download any heavy files to your Hard drive/Computer. It is 100% cloud based application.
Q
Do I need to have any kind of Technical Skills to use "StockNation" ?
No, not at all. Moreover, we have a over the shoulder training to help you use StockNation and it's Video editor to maximum effect.
Q
Do I need to download any other software to use StockNation?
No, you don't need to download any other software to use Stocknation. It's an independent Searchable Video SAAS web application.
Q
Can I view or search HD videos before I download with StockNation?
Yes, off course
You can Search any video by just entering any keyword
You can preview any video before downloading your favorite video

You can mark as your "Favourite Video" so that you can download it later
Q
Are Stocknation Videos/Audios compatible with all major softwares?
Yes the Audios/Videos are just like any normal Audios-Videos. They work fine with any modern software like Explaindio, Vidgeos, Easy Sketch Pro, Camtasia, Easy VSL, Powerpoint, etc
Q
What is the Delivery method of Stock Library?
As soon as you buy Stocknation you will receive your individual login access to our App. You just need to login and use your assets. That's all you need to do.
Q
Is there a money back guarantee?
If you're not 100% satisfied, we offer a full no questions asked money back guarantee. Just send us a Support Ticket and we will take care of it for you.

You have absolutely nothing to lose, and everything to gain!

We know you're going to LOVE it!
Q
Do I need to pay monthly/Yearly for the Stocknation membership?
No, you don't need to pay monthly/yearly for Stocknation membership. This is a Solid Bingo Offer with one time payment only.
Q
Are there any Limitations on the Number of Renders?
No, there is no limitation on the Number of Renders as such. You can render unlimited videos with Business Package.
Q
Do you have any Upgrades?
Yes, we do have 2 more upgrades offering Images, Vectors, Illustrations, and Audios. However, both of them are completely optional and can be availed as per your needs.
Q
Which format can I download the stickers in?
The stickers can be downloaded in .png and .ai format.
Q
Will you be updating the collection with more stickers in the future?
Yes, we will be updating the stickers collection with more niches in the future which you can download and use to grow your engagement, build a loyal fan base and generate more leads :)
Q
Do we have to pay extra to get StockNation's Sticker pack?
Not at all, StockNation's stickers are included in your StockNation Pro's Package and you don't need to spend a dollar extra. Also, they will be available to you for One Time Price.
Get Instant Access to StockNation Today:

Personal

Business
Searchable videos via category

---

30,000+ Premium HD Videos


(FRESH 5000+ Ultra HD STOCK VIDEOS Just Added)

---

5000+ Premium 4k Videos

---

2,500+ Bonus HD Videos

---

Advance Inbuilt Video Editor

---

Trim Videos, Merge Videos

---

Add Text over Videos

---

500+ HD Motion Backgrounds

---

Video Stickers in 50 Local Niches

---

Commercial Use

---

Use in Unlimited Video Projects

---

One Time Price

---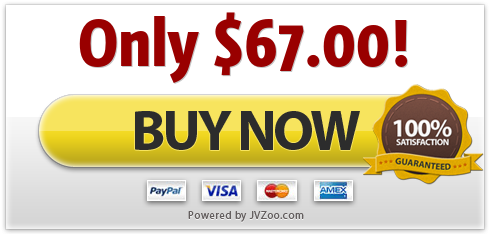 PS: Since you've read this far, it's clear you're interested in infusing vibrance and Creativity to your Videos. However we cannot be certain of how long we will be able to Sell StockNation at this low One Time Price. And hence, we will suggest you to secure your Unlimited Access right away.